After spending some glorious time lying around in Portland, I decided it was high time to get back out in the woods for a bit. I'd scouted a pretty sweet little Forestry Service campground on the west side of Mt. Hood that turned out to be perfect. The site was unmarked and tucked back in the tall trees next to a roaring stream—so beautiful it almost didn't seem real.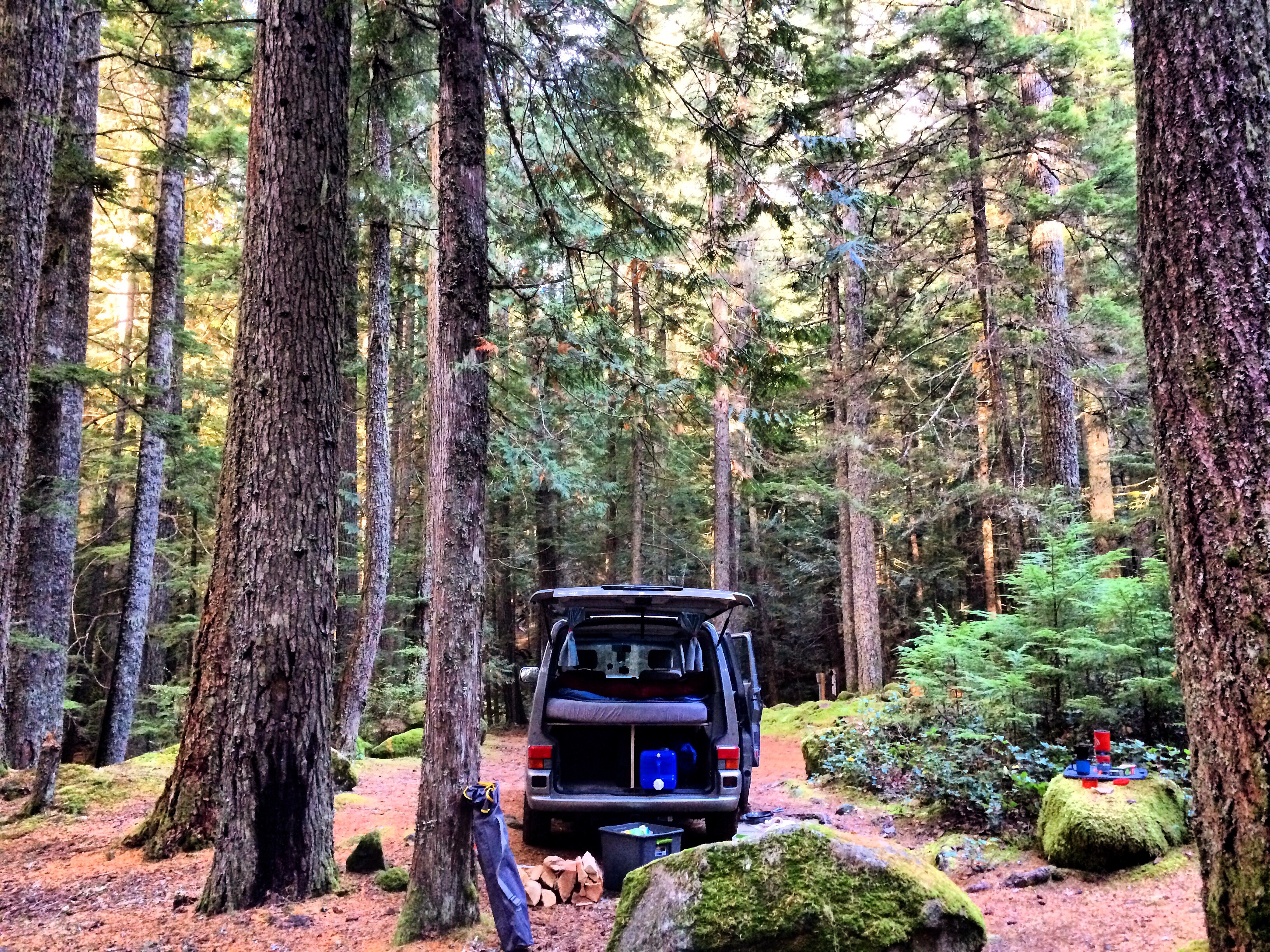 This may not be the most beautiful picture, but hopefully it sheds some light on the way I do things.
I love my little van. Living in such a small place has really changed my idea of what I need in my life to be happy. I basically travel with clothes, camping gear, camera gear and some books. With just a bit of streamlining, I feel like I've been able to reach a considerable level of luxury for such a limited amount of space and stuff. I've always enjoyed small spaces, and when I shut the curtains in that thing I feel like I'm in my own safe little world.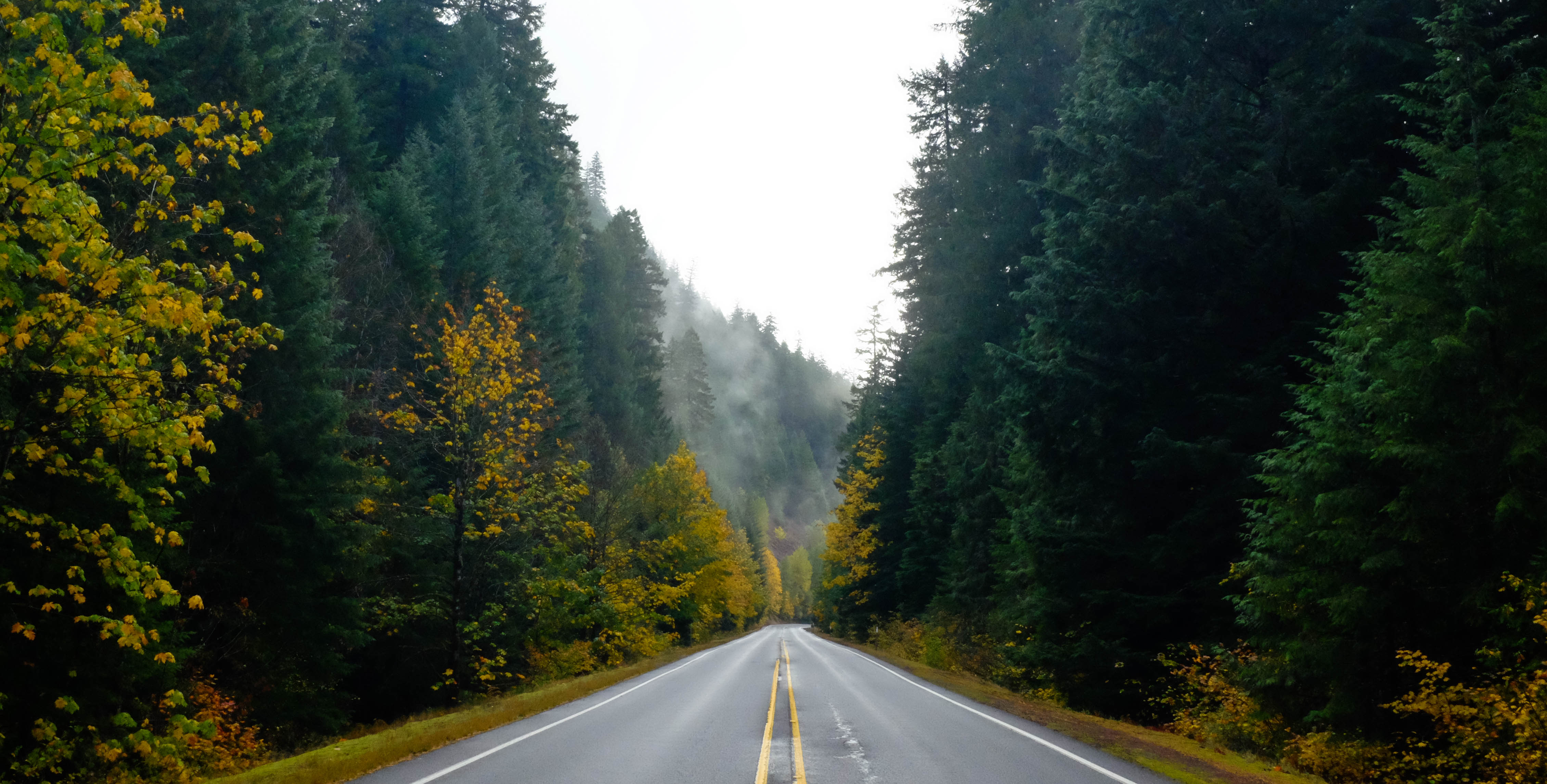 The plan was to head east to the John Day Fossil Beds National Monument, but the forest was so beautiful that I decided instead to head south through the mountains towards Crater Lake. Oregon state Highway 26 heads straight out of Portland up through the mountains on its way to meet back up with the big highway outside of Boise, but I took the first reasonable looking fire road heading south. I love exploring the network of small roads in this state. You are almost guaranteed to see something unique.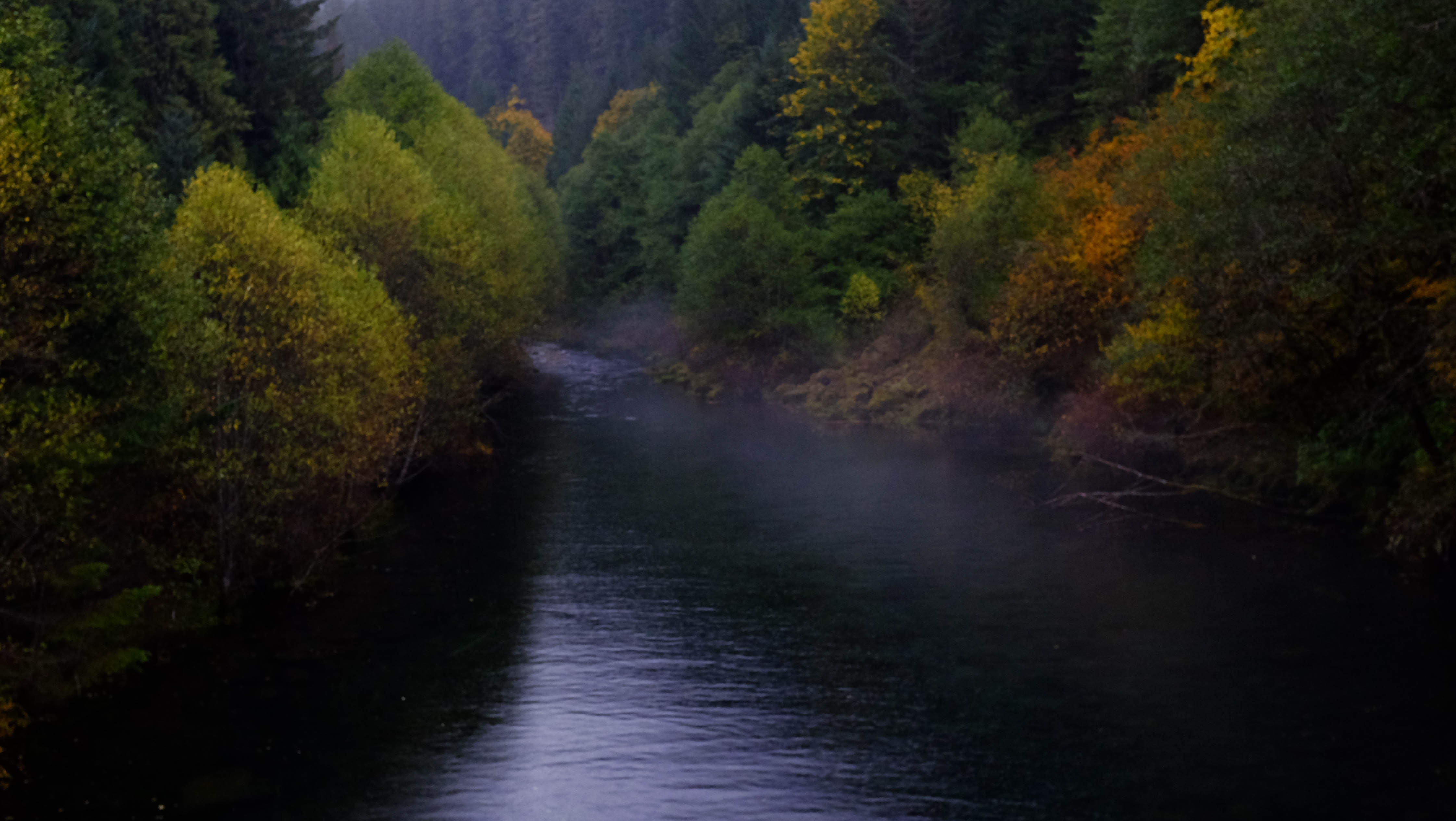 After meandering south through the mountains, I finally settled on a rainy little campground somewhere between Mt. Hood and Crater Lake. A lot of the State Park campgrounds have begun to close for the year, but there are still countless places to camp. Oregon allows dispersed camping in many areas, so you can basically camp where you want on public lands. This spot looked pretty plain at first, but after following the sound of water down a small, steep hill, I found one of the most pristine streams I have ever seen. I feel a different kind of peace and relaxation when I find places like this. They serve as a much needed reminder that we are not completely lost as a culture. This brook had no agenda to do anything other than flow the way it wanted to and support the plants and animals that live in and around it. I feel like we (I) often think of beautiful nature scenes as something that exists for my enjoyment or entertainment, and I find deep comfort in realizing that nature don't care.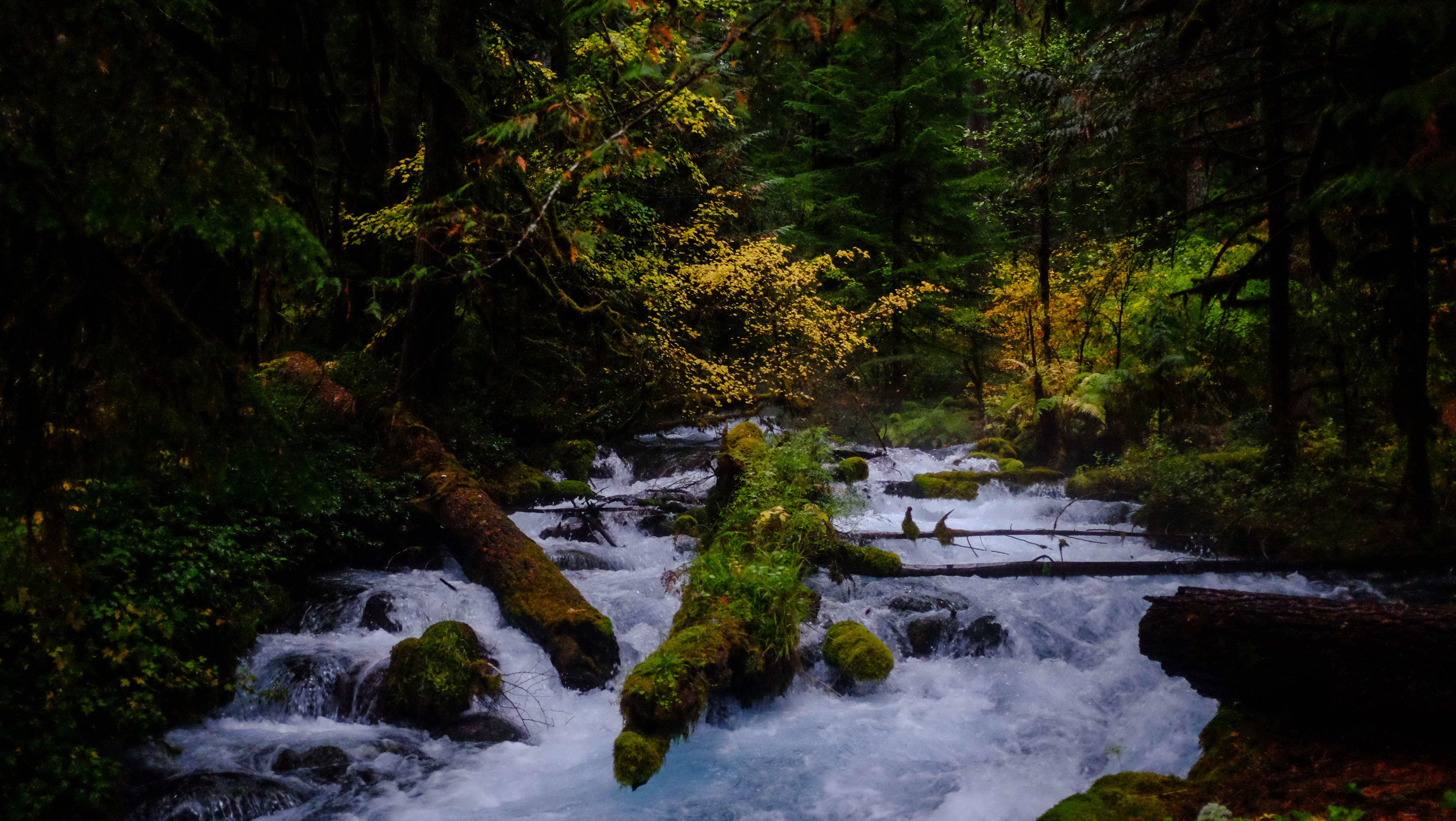 I've been sussing out my cooking kit for awhile and got to try everything out in the rain that evening. It turns out that my little setup fits perfectly under the raised back door of the van, and I was able to stay dry while I made a fine camping feast. It also turns out that the place under my license plate collects water when the door is up, so I basically dumped a bucket of ice water on my face when I finished putting everything away. Fortunately I was just feet away from my warm bed.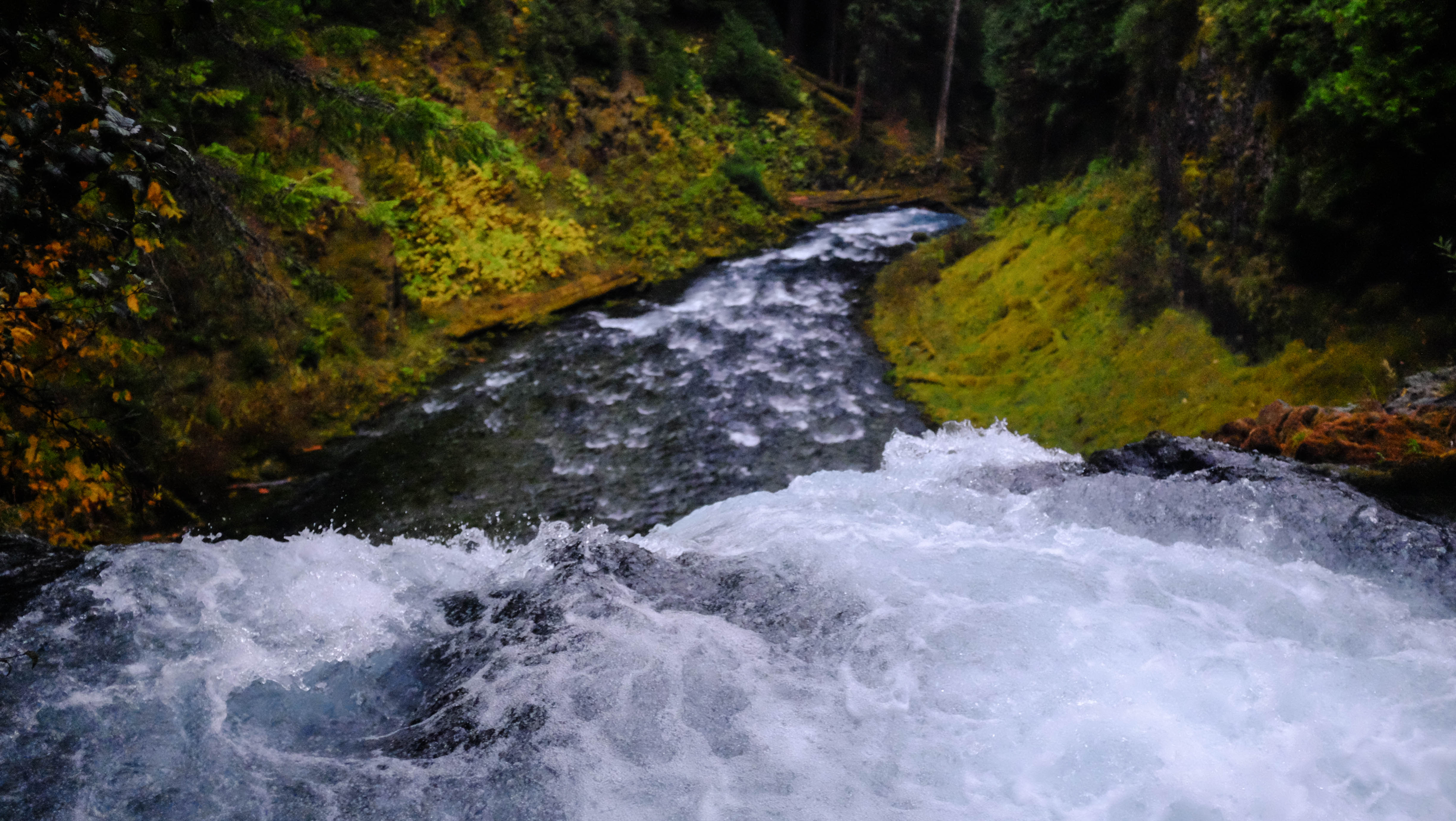 The following morning I meandered my way up to Crater Lake N.P., one of my favorite natural wonders and such an amazingly beautiful place to spend an afternoon. The lake sits in the caldera of a collapsed volcano on Mt. Mazama and has no rivers running in or out of it, which makes for incredibly clear, blue water. I read stories of a giant crayfish (or dragon) dragging disrespectful guests back down in to the lake and have to wonder what it must have been like for The Klamath Indians to live in the proximity to all these young volcanoes when they were active. What a truly breathtaking place.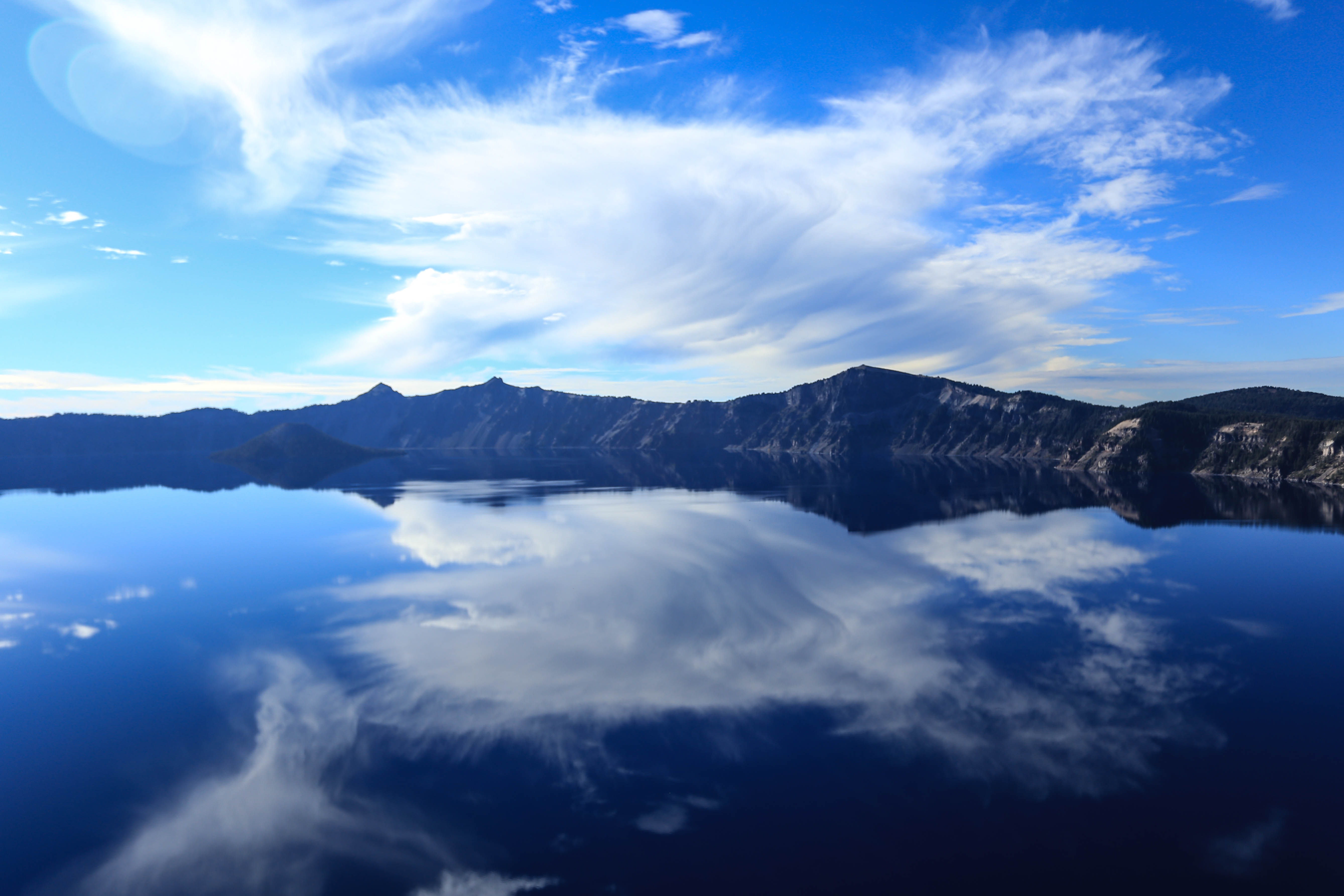 After exploring the lake for awhile, I decided to head out to the coast via scenic Highway 138 through the unbelievably gorgeous Umpqua National Forest. Along the way, I stopped randomly at little turn-offs that promised something nice to see. One of those stops was this unbelievable waterfall just off the highway. It was a prime example of the perfection of Oregon forests that has won my heart over and over again.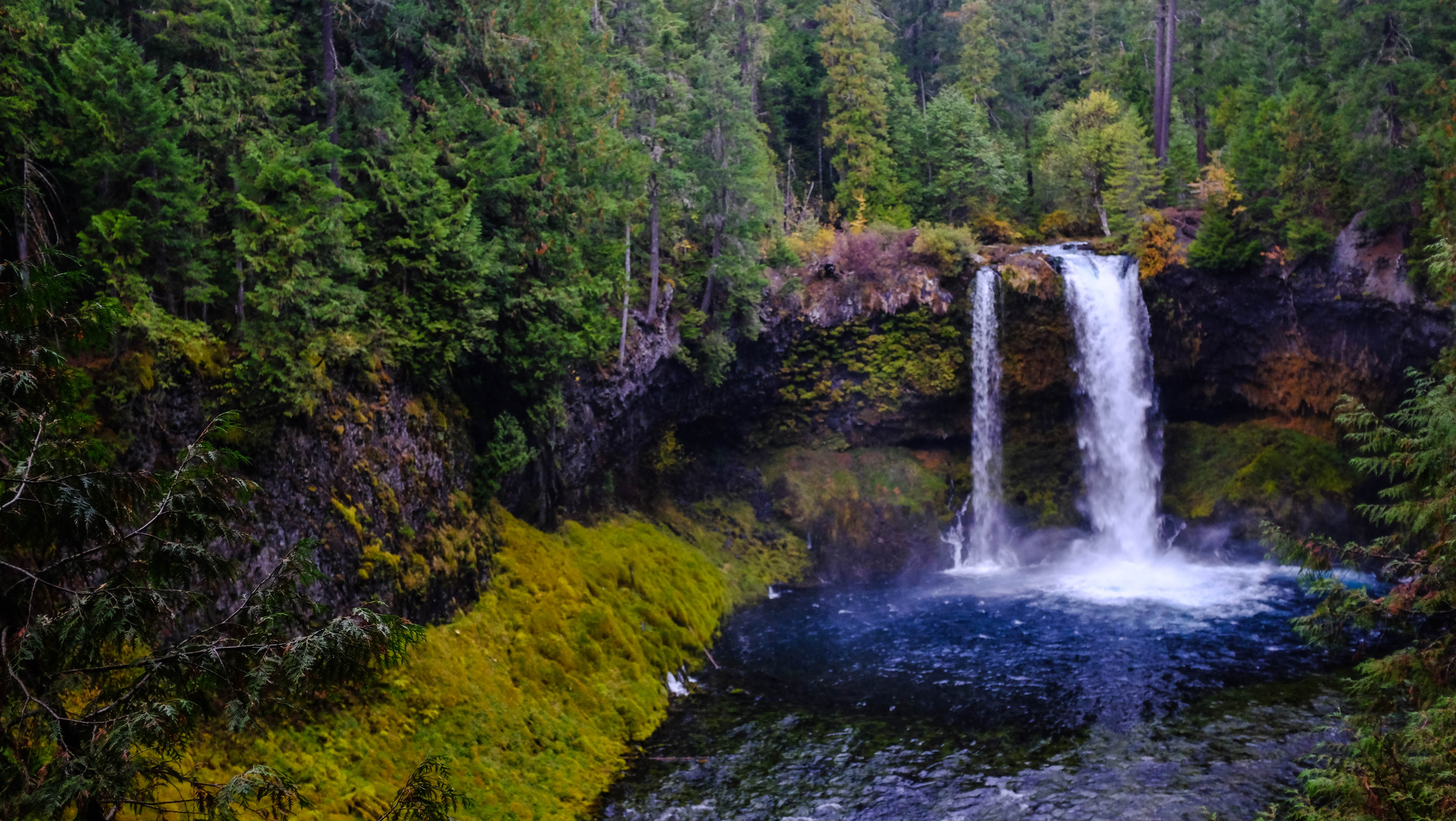 After a longer-than-expected drive, I ended up just outside of Coos Bay at the Shore Acres State Park, where the ocean puts on an amazing show of crashing against the jagged coast. I spent the day exploring the coast and surrounding rose gardens, then made my way north to the Oregon Coast Aquarium in Newport to check out the local ocean life.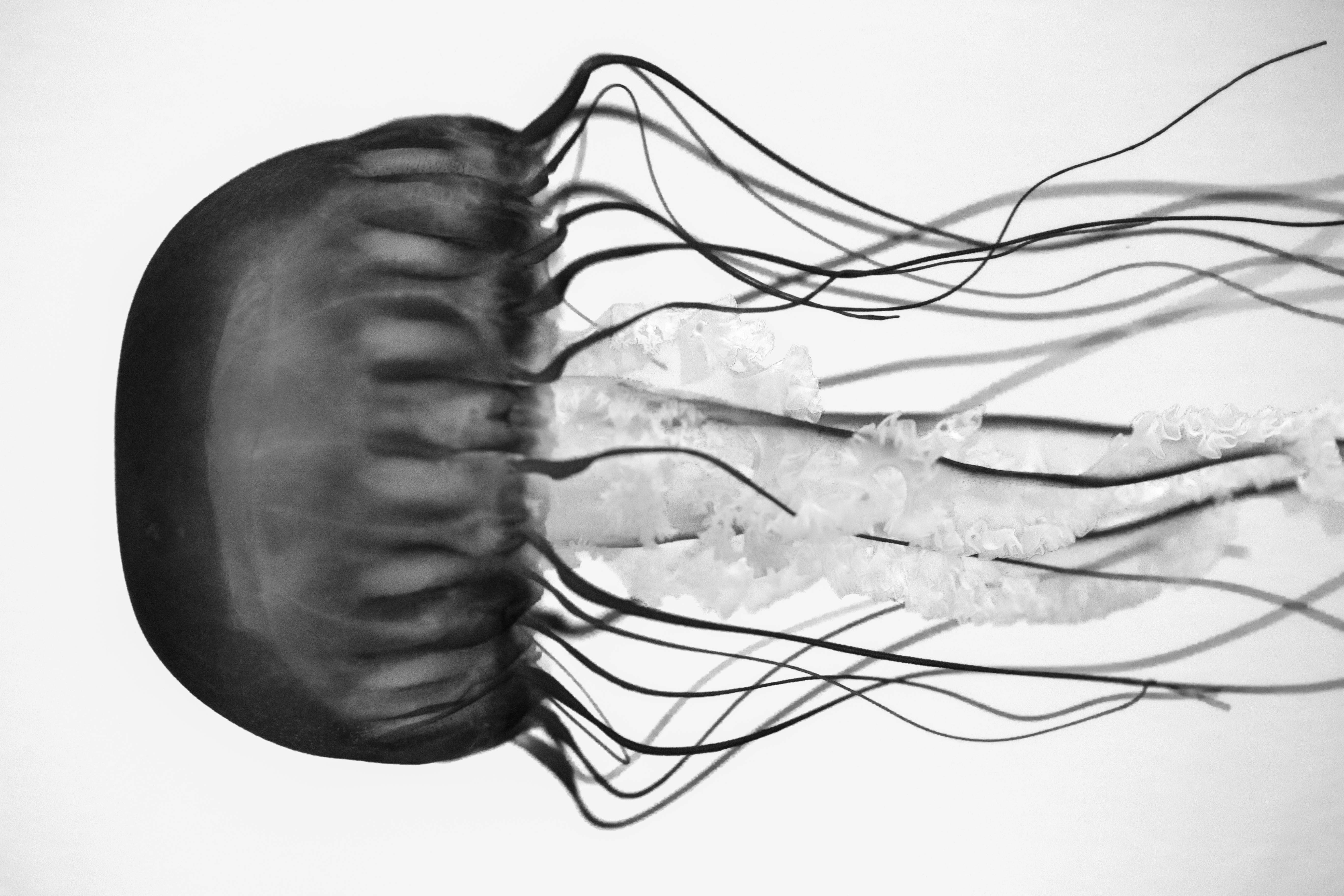 I spent the next few days enjoying some of my favorite spots and state parks that run up the central Oregon Coast, an area that I consider one of the most beautiful places I have ever been. The weather was perfectly sunny, something that I wouldn't expect in mid-October but certainly won't complain about. I've heard that we may be in for a super El Nino winter here on the West Coast this year and look forward to seeing a little relief from the drought that has ravaged the area. There is nothing I love more than the woods in the fall and winter—the colors and scenery are to die for. I can't wait to keep exploring this beautiful country for the foreseeable future.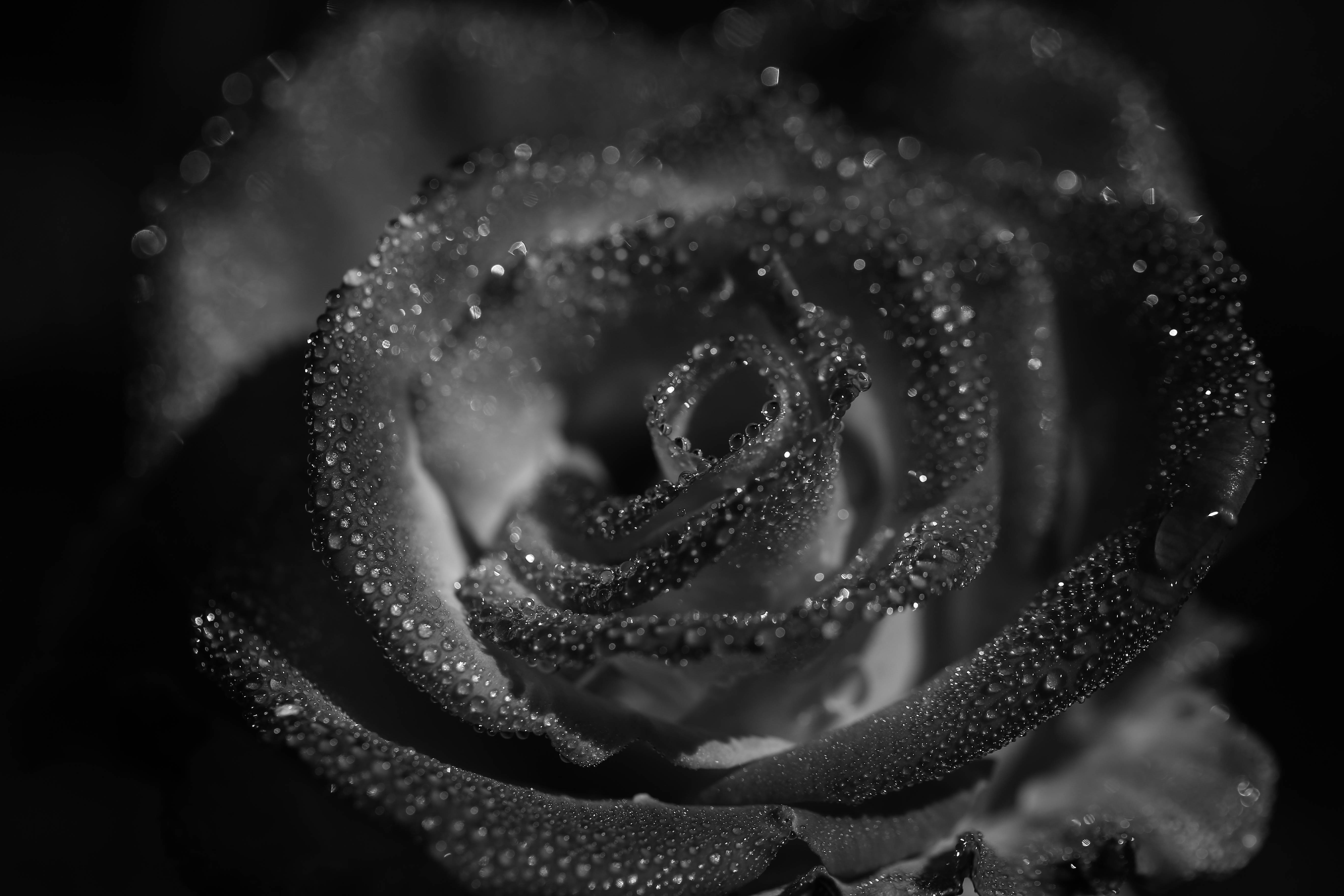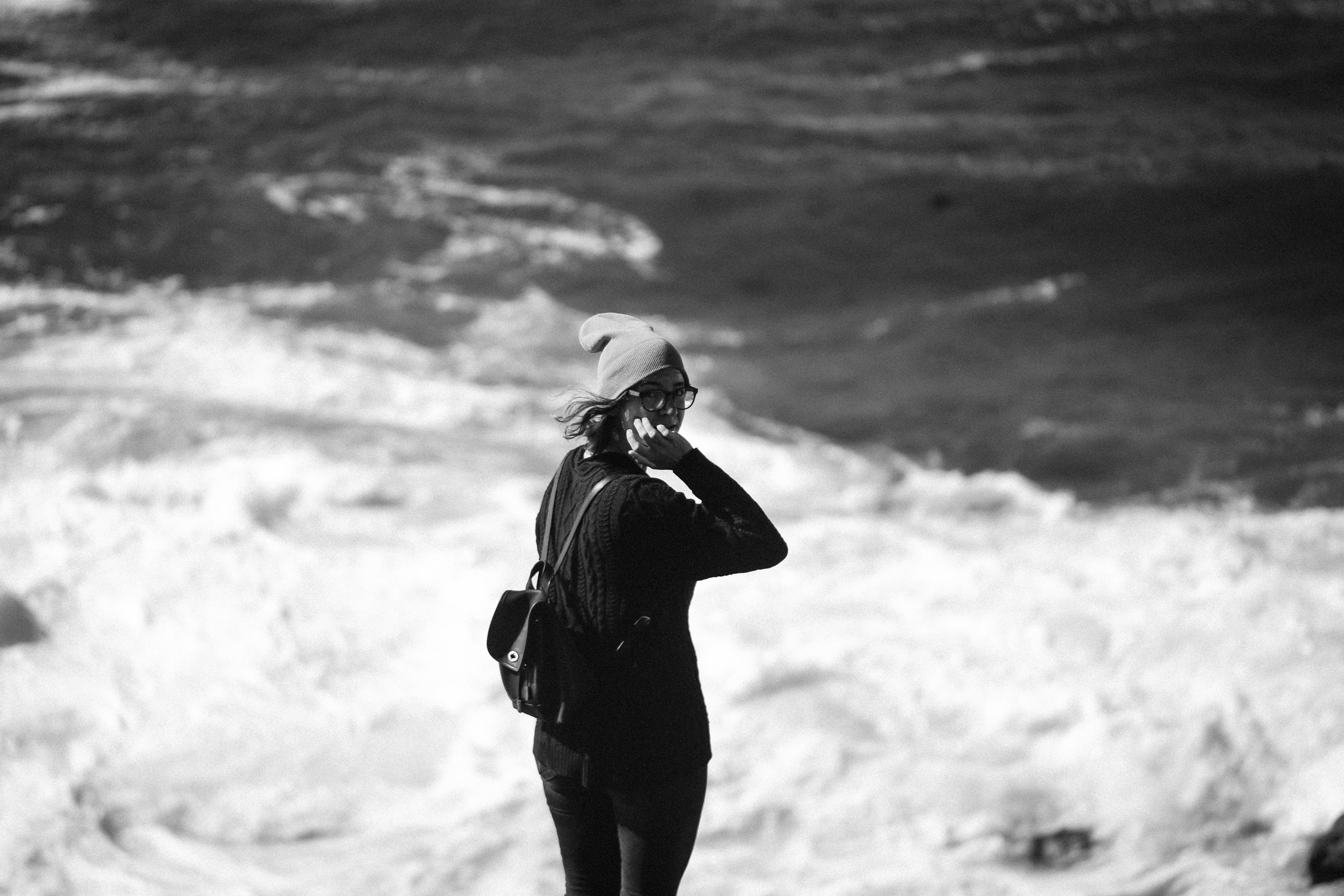 Please remember to reach out! I would love to hear from you. If there's a spot you think I should check out, you'd like to spend an afternoon shooting photos or just want to chat, post a comment here or send me a message on Facebook. Oh, and please follow me on Twitter and Instagram @roadlyfe to stay in the loop! You can also email me at adam@roadlyfe.com.
All words and images © Adam Smith 2015.